I'm sorry for having been slack in blogging. In case you've been wondering… When you read this, I'll be on the plane to or al
I'm sorry for having been slack in blogging. In case you've been wondering…
When you read this, I'll be on the plane to or already in London for my first WSET Dip exam. Juggling work and study has been quite a task. So I thought I'd go a bit early to give myself a few days to cram. I hope all the wines to try AND the world cup won't be too distracting!
Last month, I went on a spontaneous road trip, which combined many celebrations into one: hitting the 40s bracket, friendship, new adventures, etc. Gosh, what an ecstatic holiday it was!
I struggled quite a bit trying to get back to the grind after such a long crazy holiday with endless eating and drinking. But it was well deserved and that's what life is about: being happy.
A fabulous boat trip and swim in Bodrum and an unplanned catch-up with an old friend in Cappadocia… I came home with such lovely memories that I wished I could have been a full time traveller.
By the way, if you are in Bodrum, don't miss the chance to take My Way Boat Trip and meet the lovely couple, who put their heart and soul into what they do. It's a great way, not only for tourists but also for locals to enjoy the day in the sea with loved ones on special occasions.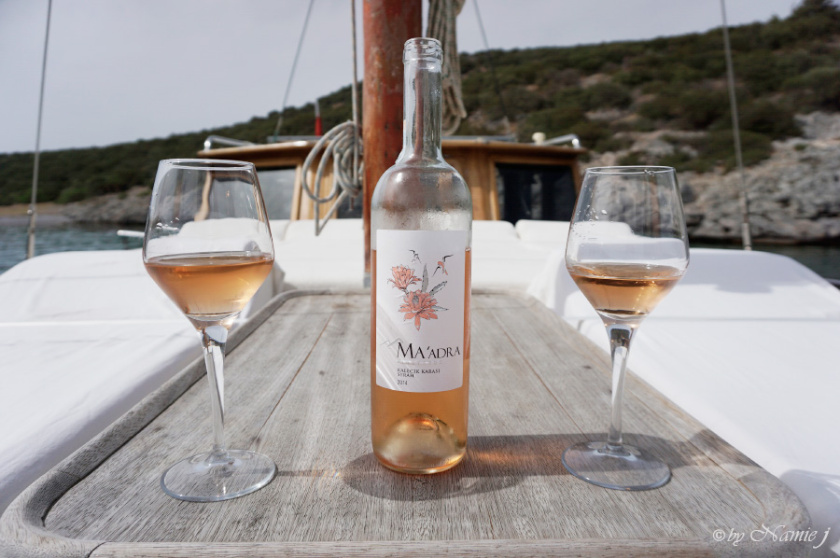 The best thing I liked about their tour is intimacy, attention to details and the quality of food and wine, which other usual touristic boat tours don't care about. Upon reservation, I politely asked if I could bring my own wine, – can't stand bad wine, especially on my birthday! – but was assured by the wine list he gave me.
Since my travel companion wasn't into reds and it was hot, I picked Ma'adra Rosé, which is made of Kalecik Karasi and Syrah. Lovely!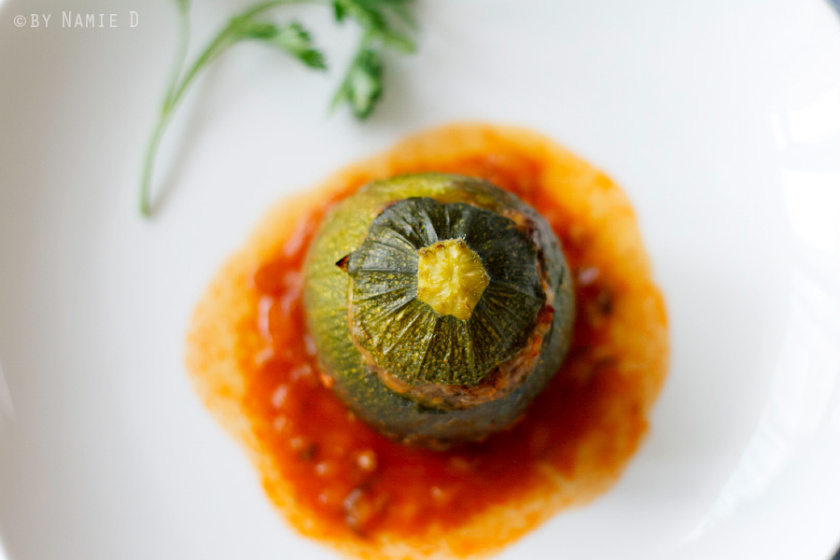 Anyway, as friendship comes in different shapes and styles, Stuffed Vegetables, Dolma, come in a variety of shapes, sizes and flavours. At this time of the year, you'd probably see these cute globe zucchini at farmers markets. They are too irresistible to pass up.
Ok, I won't lie to you. I made this last summer and it was sitting almost finished in the draft so I decided to post it with bits of holiday stories shoved in.
This recipe is a mix of Turkish and Persian flavours, as usual. Koofteh Tabrizi was mentioned on my favourite food show and I, inspired by the idea, incorporated it into the stuffed zucchini I was planning to make.
I used 100% lamb and other major tweaks in my recipe were the spelt bulgur and red pepper paste. It strictly has only red pepper paste; no tomato paste.
Turkish red pepper paste (biber salcasi) is the essential part of the cuisine along with tomato paste. I use this sun-dried red pepper paste a lot in cooking, which comes in various spicy levels.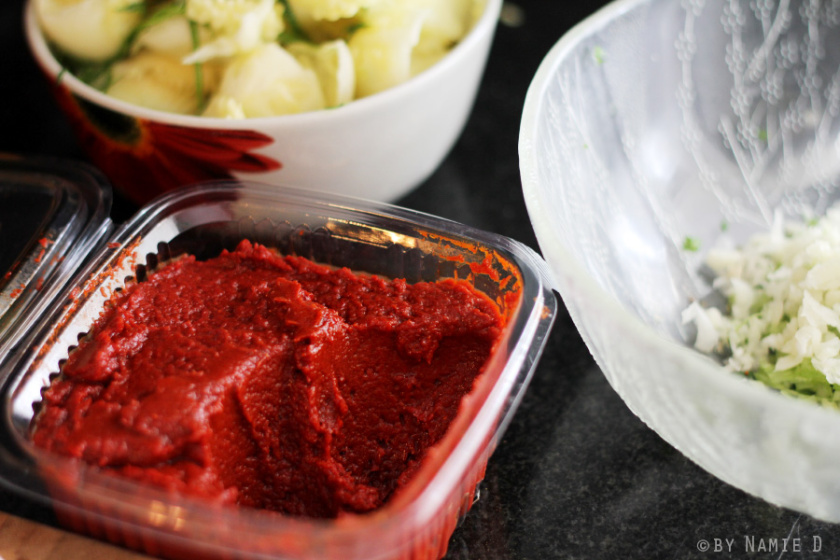 So I mixed the ground meat with a big dollop of red pepper paste, which had a medium spicy level, along with 'grated' onion, spices and bulgur, which had been soaked in hot water.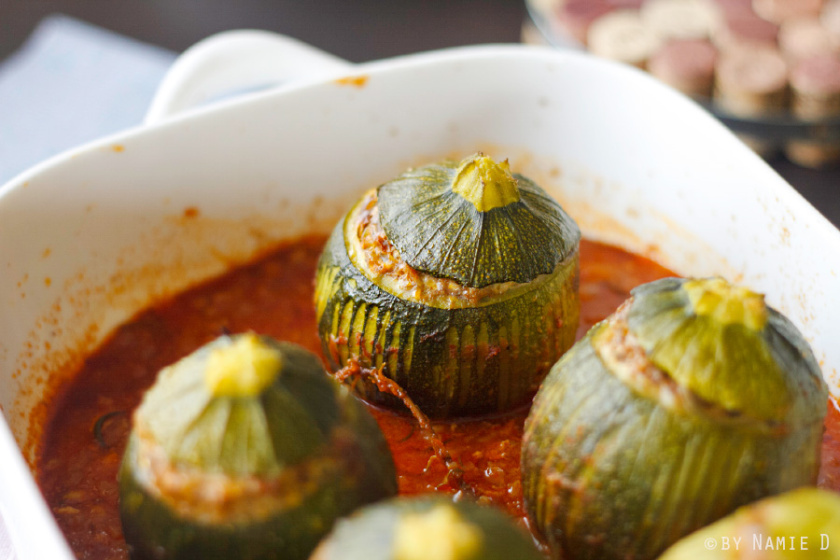 It's almost like having a big meatball inside the courgette. It's meatier, containing very little bulgur, and heartier, bursting with rich flavours.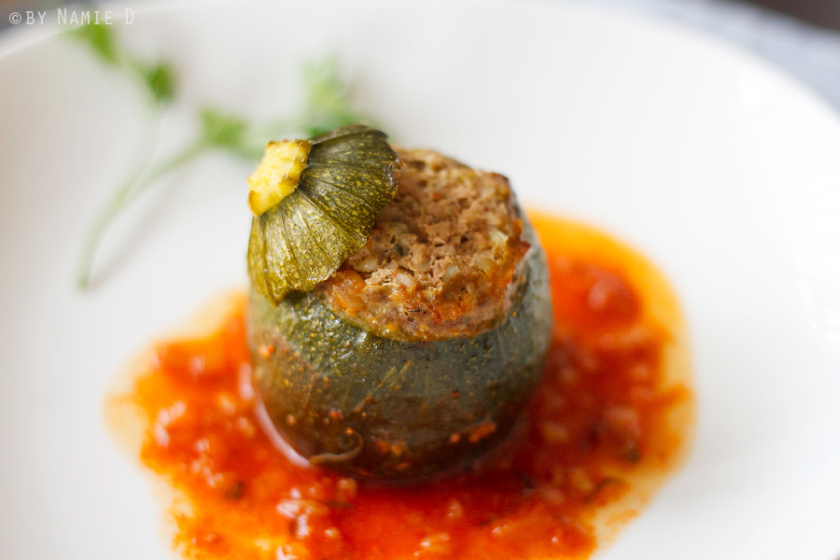 And there's even a little surprise hidden inside! Tiny details always make a huge difference. Hubby said it was very delicious and had a nice and rich sweetness to it.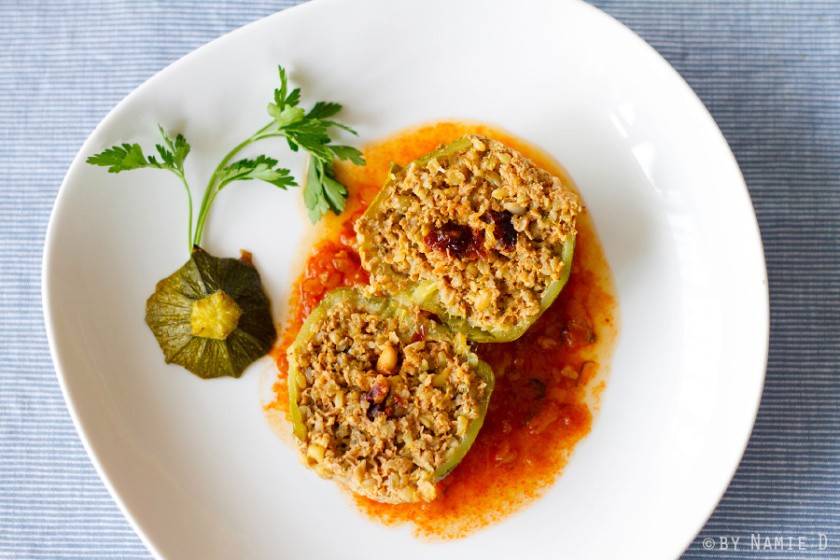 The combination of 'grated' onion, pomegranate molasses and red pepper paste probably did the trick. The reason why I grated onion instead of chopping? For texture, to make the stuffing hold tightly, and for evenly distributed flavour.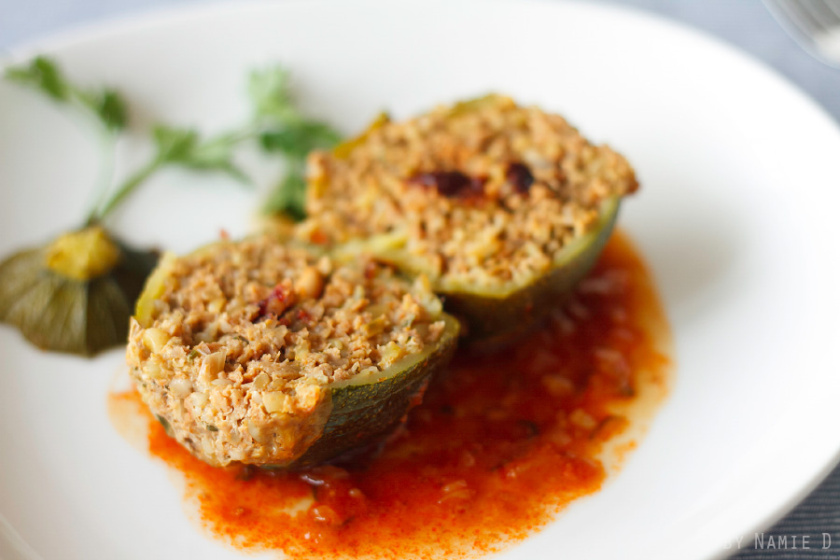 Speaking of spelt bulgur, a gurme shop in Kadikoy, called Altinoluk, stocks a range of regional, organic and quality products including spelt bulgur from Kastamonu, sourdough spelt bread, potato bread from Bolu, pomegranate molasses from Hatay, etc.
I think it's worth a trip to the shop if you're a slow foodie. And I'll see you after I get back from London with 'pass' smiles. I'm so looking forward to tasting good wines but not the exam…. 😦
Globe Zucchini Stuffed with Lamb and Bulgur
Ingredients
6 globe courgettes, hollowed
For the stuffing
500g lean ground lamb
1 onion, finely grated
3 cloves garlic, minced
½ cup of spelt bulgur, soaked in hot water, covered
1 Tbsp Turkish red pepper paste
1 Tbsp pomegranate molasses
1 tsp turmeric
½ tsp cumin
¼ tsp cinnamon
2 tsp dried mint
2 tsp sea salt
freshly ground black pepper
fresh parsley, finely chopped (optional)
some pine nuts, dried fruit(date, prune, cranberries, etc.)
pine nuts, slightly toasted (optional)
Steps
1. Preheat the oven to 200'C.
2. In a large bowl, mix all the stuffing ingredients very well and stuff each courgette. Place some nuts and dried fruit and push them into the centre.
3. Put the lid on and place the courgettes in a baking dish.
4. Make a bowl of broth with 1 1/2 cup of water +1 tsp minced garlic + 1 Tbsp red pepper paste + 1 Tbsp olive oil, and pour it around and over the courgettes.
5. Bake for 40-50 mins and serve warm.
Alternatively, you can take the lid off and brown the top under the broil and put the lid back on when serving.