It's too hot to cook! These days I'm living on watermelon, cheese and ice cream, and occasional BBQ picnic. So, to fill the gap, I thought
It's too hot to cook! These days I'm living on watermelon, cheese and ice cream, and occasional BBQ picnic.
So, to fill the gap, I thought I'd write up a post about my experience while I'm still savouring in my mouth the flavours of delicious Indian, Thai, Italian, Spanish, French, Hawaiian food I scoffed down, while drinking copious amount of wine around the busy London city.
First, I'll start with my exam, because I know so many people are curious about it. The first classroom day was exciting to finally confirm that the fellow students, whose names appear at random online, were human not computer-generated avatars.
After the exam and a short break, tasting workshops started and we evaluated a series of wines according to SAT (systemic approach to tasting). I really need to give credit to Chris, my level 3 instructor, for the very helpful SAT sheet he created. The students at my table rushed to take a photo of!
A lot more emphasis was put on assessing the quality of each wine compared to Level 3, and the introduction on the case study exam was completely mind-boggling. Intense study and research for the next 3 months!
Apart from tasting some great wines, the reason I study wine is to meet nice, fun, like-minded people. I got to know a guy from Sweden, who became my lunch mate during the course and introduced me to some really nice cafes down the street of the new WSET venue. It's full of cool of cafes and I'm already looking forward to trying the other places on my next visit!
I was lingering after class, secretly hoping someone might propose, "Anyone want to do more tasting at a wine bar?", and I heard a guy mentioning a NW wine tasting so I jumped at it, and we, four of us, headed down to Pop Brixton.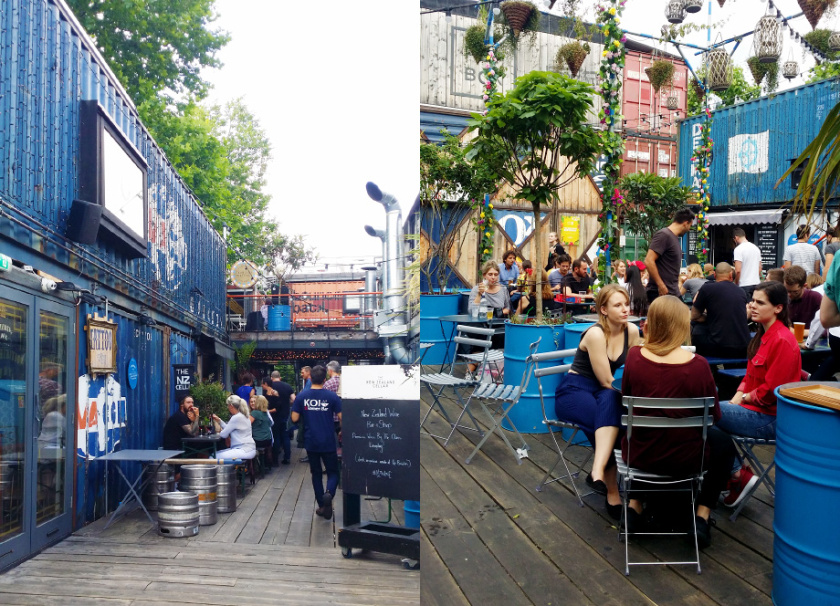 Surrounded by these funky container boxes was a vibrant and cool space where savvy and laid-back foodies hang out. The tasting was at The New Zealand Cellar and I highly recommend you sign up to follow their rare events. You might rub shoulders with Jancis Robinson as it happened two days after I left London, grrr…
That evening was a tasting of Akitu wines, from Central Otago and Andrew, the owner of the winery and such a genial man, shared the stories behind his wines with a good Kiwi sense of humour. I got enchanted by his persona even before I tasted his wines.
Just having had an exam on viticulture earlier that day, we responded well to the geeky subject of clones, rootstocks, aspects, and soils, with cheeky giggles to each other. The story of NZ's so-called 'Gumboot' clone. aka ABEL clone was very intriguing indeed! The deeper I get into winemaking, the more I realise how important these clones are!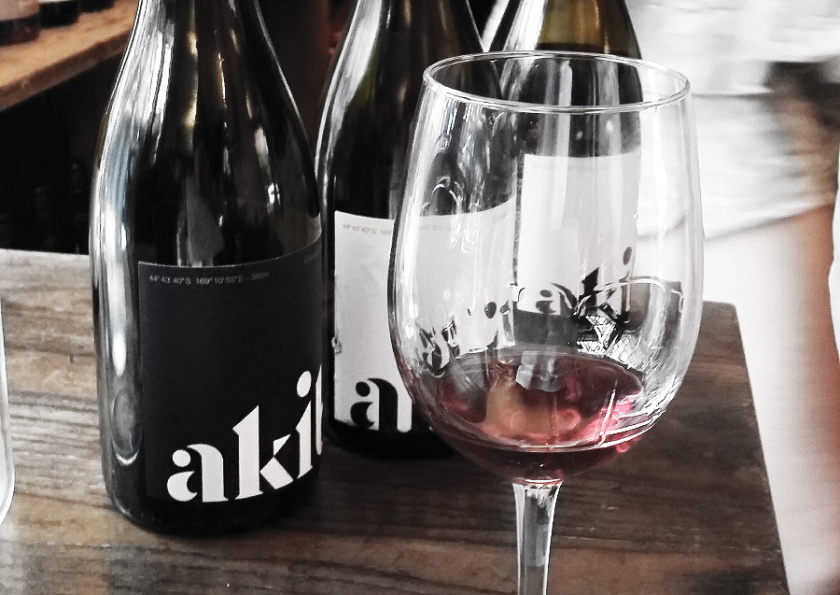 Holding a glass of Akitu's A1 (2016) in one hand and A2 (2016) in the other, he explained the differences between the two. It sounds like R2-D2 and AI sci-fi characters, doesn't it? Indeed, Pinot Noir WAS all about clones and scientific vineyard management.
A1 is made from the Abel clone parcels, therefore better tannin structure, mid&back palate and complexity. Not all Pinot Noir is made to age but this one is and A2 (2014) was just gorgeous and elegant with extra layers of earthy aromas and complexity. Now imagine how incredible A1 will become after a few years in the cellar!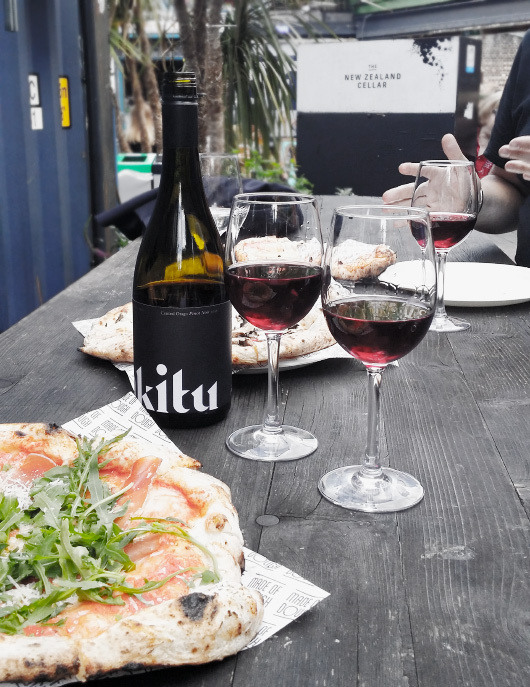 Akitu, meaning 'summit' in Maori, probably translate to his pursuit of the utmost quality. The vine's struggle to acclimatise on the geographically challenging site, trying to root deeper and deeper on the hard glacial schist soil, is reflected in the glass. What a remarkable work of art and science!
Thanking Andrew for the inspiring tasting, we sat down with our favourite bottle and pizza. We chatted about how impressive the wine was and how hard it will be to find better NZ Pinots after this. It was such a privilege to taste the product of such passion, patience and dedication to making the best terroir-driven Pinot Noir.
So, out of curiosity, we thought it'd be interesting to taste it against another NZ Pinot and asked Andrew for his favourites.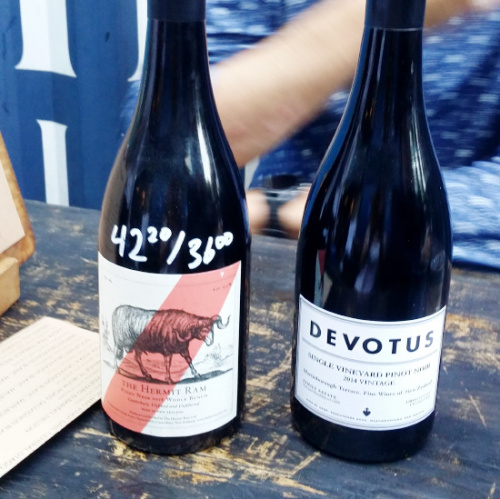 We picked Devotus 2014 from Martinborough, which is a region I'm quite attached to because I used to visit there for an annual French festival and had my first escargot!!
Anyway, Akitu was preferred by the others for its purity and minerality and I quite liked Devotus for its rustic nuance. Both were fabulous and rare wines one would not easily come across so we enjoyed it with great appreciation.
On the same day Jancis Robinson was there, they had a big tasting of unusual NZ wines. Though I missed it, my London wine friend ran down there and reported on the scene, which sounded very exciting. I hope he didn't mind me using his photos 🙂
Another interesting experience I had was visiting an English winery. Just before going to London, I listened to an interview with John Worontschak, who owns Litmus Wines and a wine maker at Denbies Wine Estate. Since I don't know much about English wines, and with limited access without a car, I thought it would be a good compromise and a nice weekend out in the nature!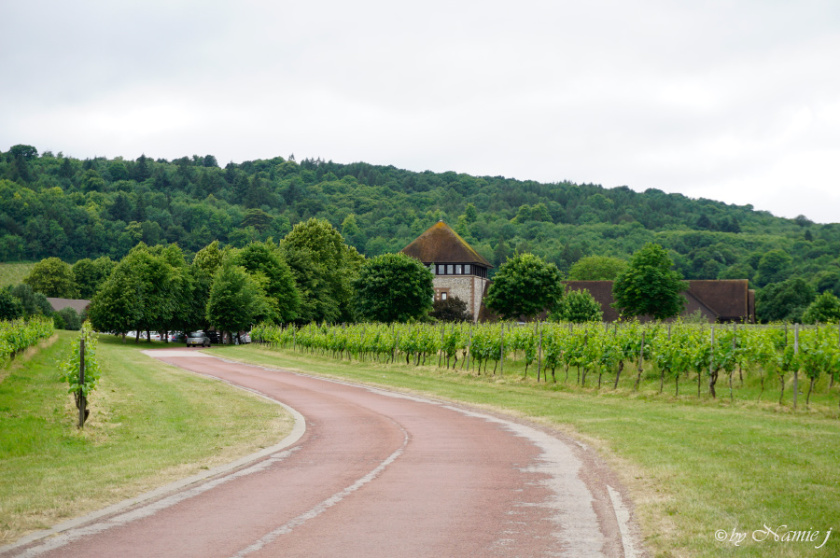 It's a huge estate and well-maintained. We put our names on a tour booking list, had salmon with watercress sauce for brunch, and had a walk around to feel the energy of the vineyards.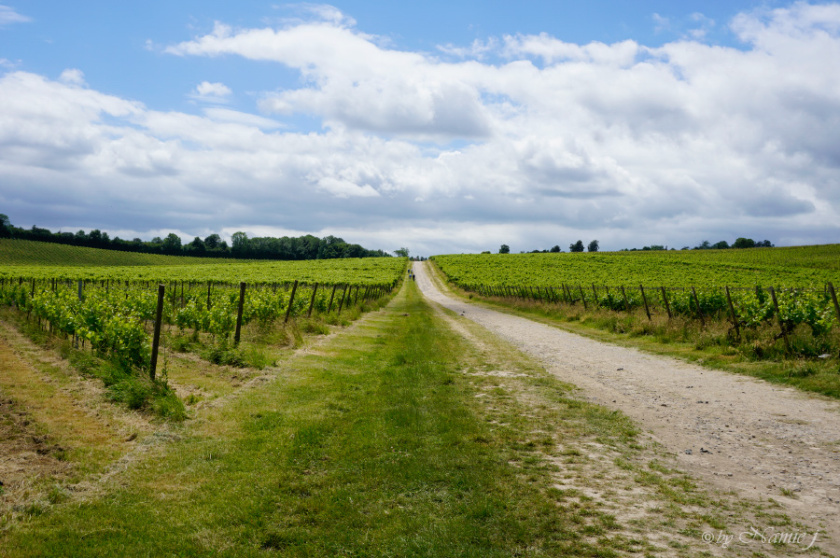 The tour started with a film explaining about its history and viticulture, and then we moved to see production facilities while the guide explained about the champagne method of making sparkling wine.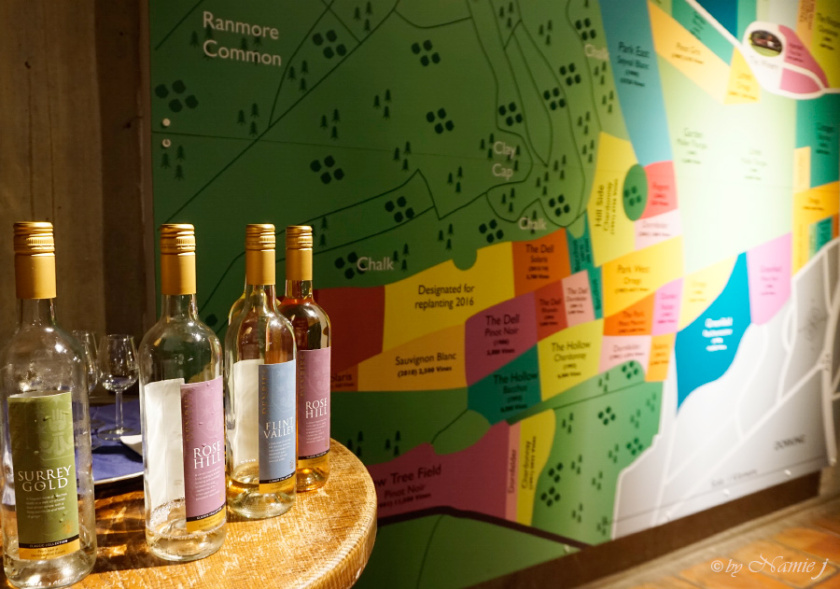 We were welcomed by another staff in the cellar where we tasted a series of wine, with matching food if you opt for it. Here I discovered so many crossings!
Bacchus, Reichensteiner, Ortega, Solaris, Dornfelder, Dunkelfelder, etc. All, created in Germany, are early ripening and resistant to fungal diseases, which are the two biggest challenges. However, thanks to global warming, these are being replanted with Chardonnay, Sauvignon Blanc, Pinot Noir progressively.
The first wine, Flint Valley, a white made from Reichensteiner and Seyval Blanc, was a very crisp, lively, floral with mineral notes, as the name suggests, and I quite liked it. Good start!
Surrey Gold is a blend of Müller-Thurgau, Ortega and Bacchus and more aromatic and slightly on the sweeter side than the first. Rose Hill is a dry rose wine made from Dornfelder and Pinot, and was nice as well. But where is Bacchus wine, which I came here for???
I was told that I could taste more wines at the shop so off I went after taking a photo of this beautiful oak casks made from the oak tree blown down in the storm decades ago.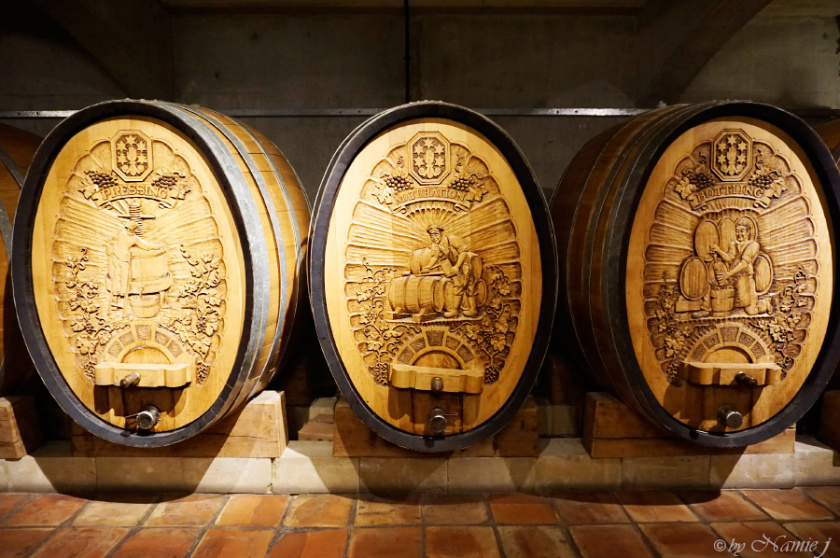 We tasted most of the wines on the shelf including award-winner sparkling wines. I'm not a fan of Pinot Gris but I quite liked theirs. It had fuller and more savoury on the palate, still being very refreshing.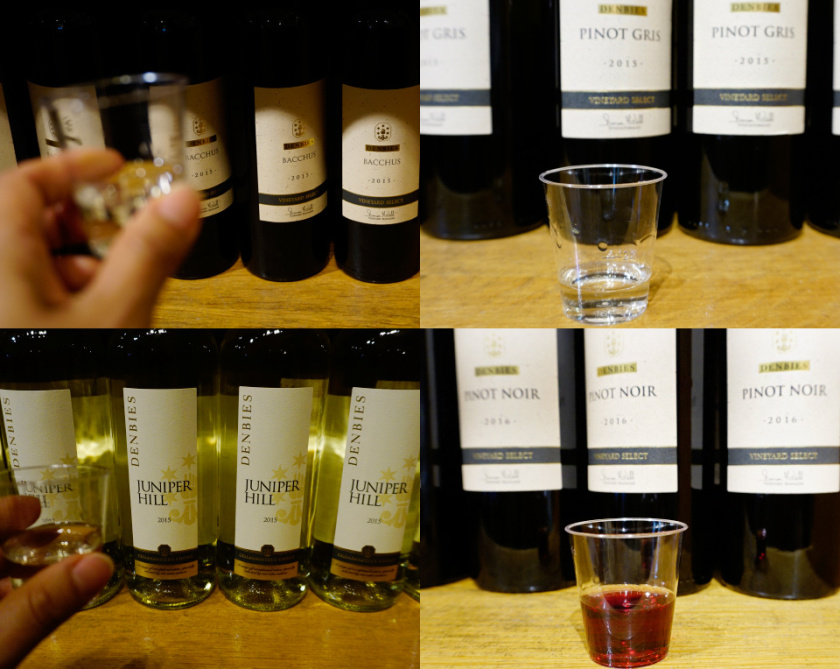 Interestingly, their wines, English wines in general, are all low in alcohol ranging between 11 and 12% and still dry, sometimes too dry. This might be enjoyed by people looking for low alcohol, low calorie wines, which is a whole new topic! I also saw GinKing, a mix of gin and sparkling wine.
Wine trends are changing so fast, which I'm reading about everyday, and I'm worried that I might lose my eye sight at the end of the study! Sadly, I didn't get to taste the Noble Harvest dessert wine, but I'm sure it's good, judging from what I tasted, nor did I Litmus Pinot Noir.
During my stay, I visited wine bars almost everyday and tried as many wines as possible. Some of the wines have been shared on my Instagram, and I can say the London wine scene has changed a lot and I'll share my thoughts on the changes in another post some time.