One of our family rituals for spring is a visit to MIL's village to collect some spring food items. The day always starts with the most anticipa
One of our family rituals for spring is a visit to MIL's village to collect some spring food items. The day always starts with the most anticipated breakfast with akitma. It's meant to be a carb-loading day, which happens only once in a while, so why not just enjoy it?
Akitma is a pancake leavened with yeast, which fits somewhere between a pancake, English crumpets and French crepes. The texture and the holey appearance place it very close to English crumpets though. This cross-cultural root of akitma made me look deeper into the history of crumpets, pikelets, pancakes, etc.
The fact that akitma is eaten specifically in this Thracian region of Turkey coincides with Bulgarian pancake, 'katmi', though the latter has more eggs.
I'm not a food anthropologist but it might be fair to say that akitma is the holy mother of the later more-refined crumpets in the Victorian era?
The more I eat it, the more I appreciate the honeycomb-like holes and spongy texture. Butter, honey, or anything put on it will be trapped in all those tiny holes, making it scrumptiously delicious!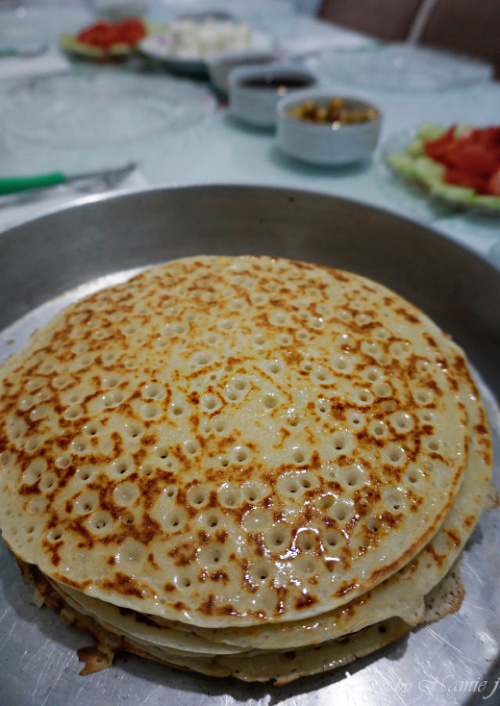 I still haven't figured out the origin of it, though it resembles Moroccan pancake, Beghrir. Out of curiosity, I put the word into Google Translator and it says 'greedy'. Makes sense!
This time, I asked aunt a few questions to verify whether or not baking powder or baking soda is necessary as suggested in many crumpet recipes. Aunt exclaimed, 'No baking soda!'
According to the master of the holey pancake, if you cook it fresh, you don't need to add an additional raising agent. Yeast and heat will be enough to create as many holes as you'd like. That confirmed why I didn't like the metallic taste of the crumpets I made last summer.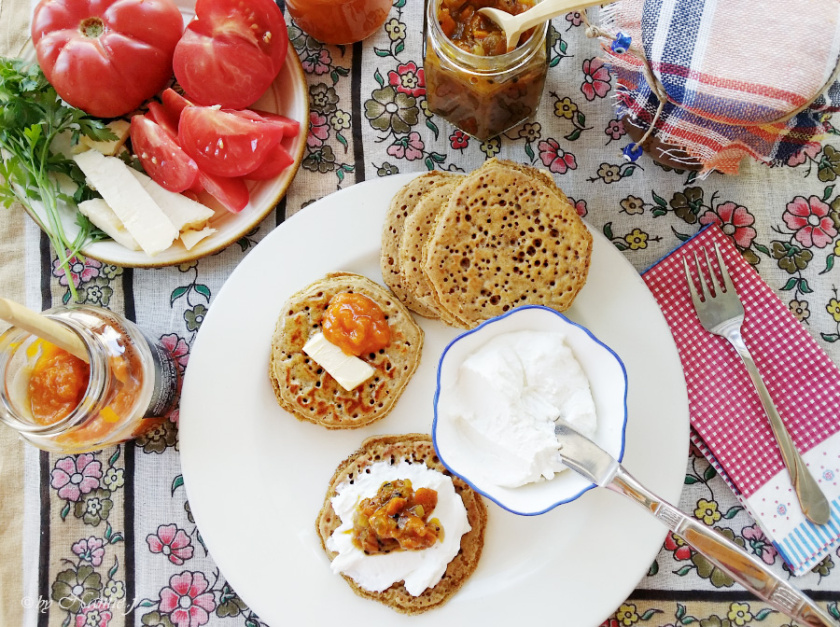 Subsequently, that might also explain how baking soda or baking powder sneaked into the original recipe and eggs out over time as servants tried to make it with scraps of bread and biscuit dough. It's a mystery… anyway, from now on, only yeast and more butter for me!!!
There was a pot of milk the aunt freshly milked that morning and boiled for the batter, and gave us a glass full before sitting down at the table.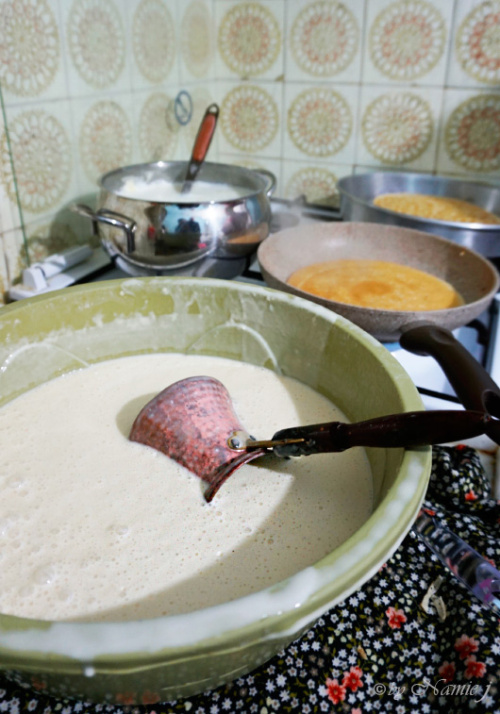 So this is the aunt's family recipe.
2 cups of milk, 1 cup of lukewarm water, one egg, 1 packet of yeast, a pinch of salt and flour (add till it's runny enough, 2 or 3 cups) to make batter to feed 6 people. Let the batter ferment for 30 mins and cook over high heat throughout for 3-4 mins and flip it over for 1-2 mins.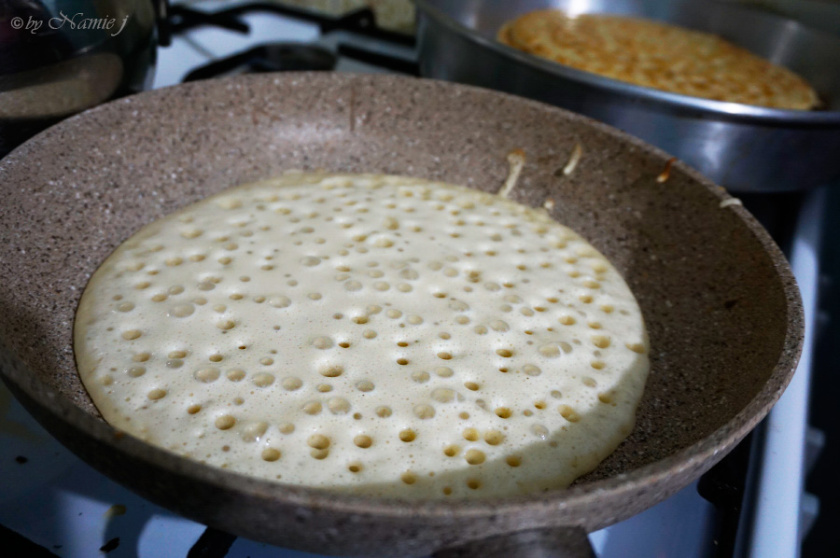 Grease the pan with oil rather than butter to prevent it from browning. When cooked, smear with butter generously and stack them up.
We were all stuffed but my big aunt started cooking the second batch to overfeed us. I lost count of akitma and I could hardly breathe at the end.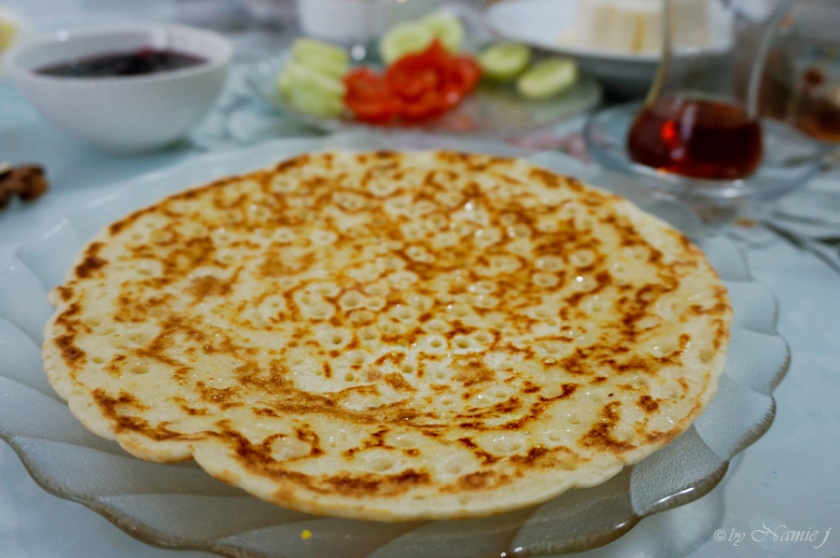 The last piece was unnecessary but I sacrificed my tummy just to demonstrate to you how to eat akitma properly.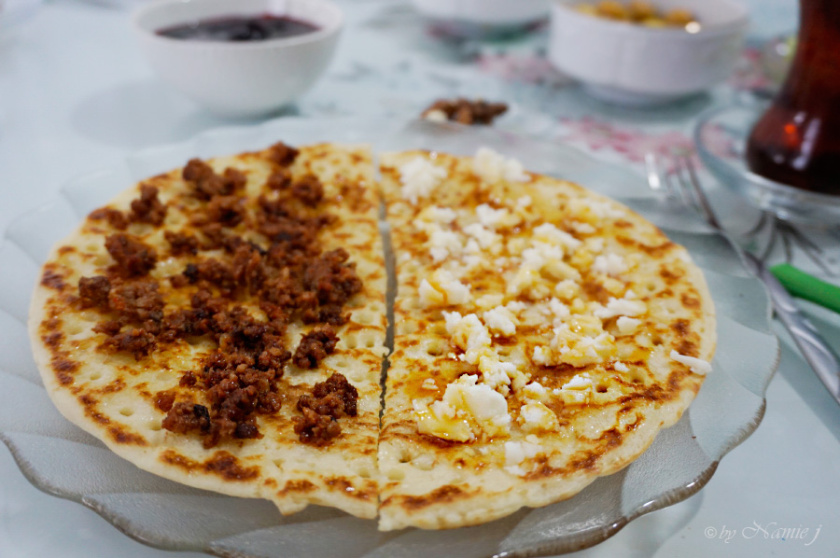 Traditionally, it's eaten with cooked minced meat, and cheese and grape molasses or kaymak(clotted cream) and honey.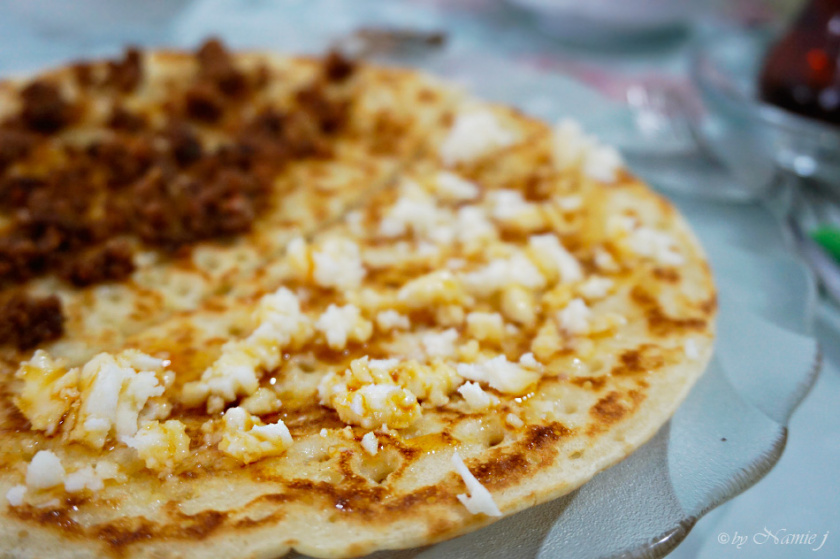 Homemade grape molasses was so delicious on homemade cheese and homemade butter. That was an ultimate 'koy kahvalti(village breakfast)' experience.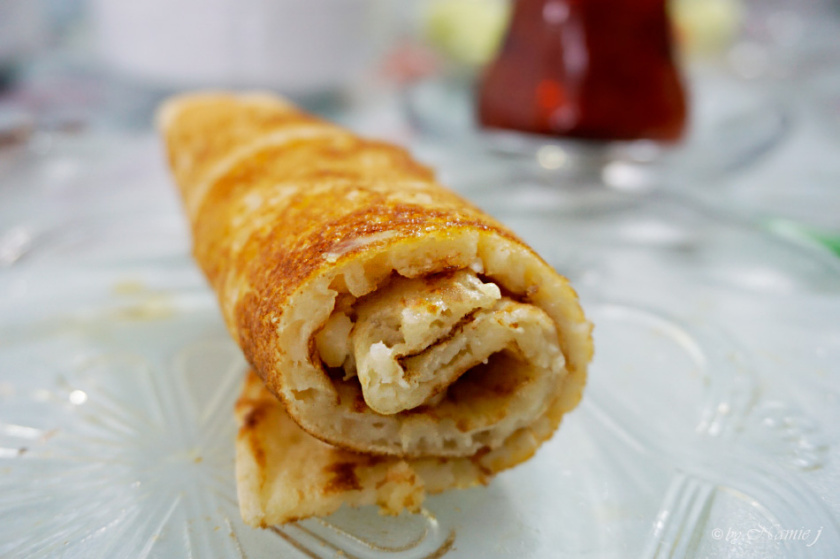 Don't eat with a knife and fork like my MIL did; eat with hands! It's no longer the Victorian century! It's messy but that's how you get the maximum satisfaction.
After digesting a little, we went outside and visited some other relatives while aunt put together eggs, chicken, yogurt, milk, and so on for us to take home.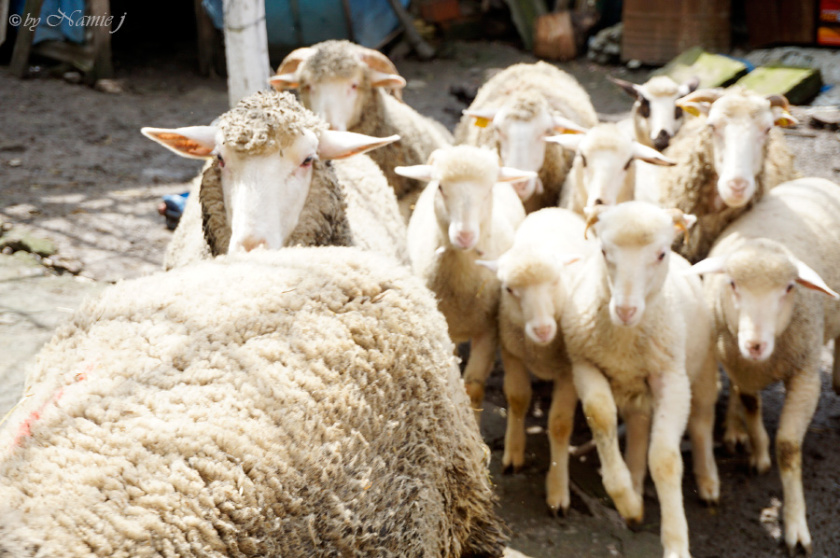 When aunt opened the door of the barn, all timid sheep rushed out and ran about chaotically, crashing into each other. It was quite funny to watch.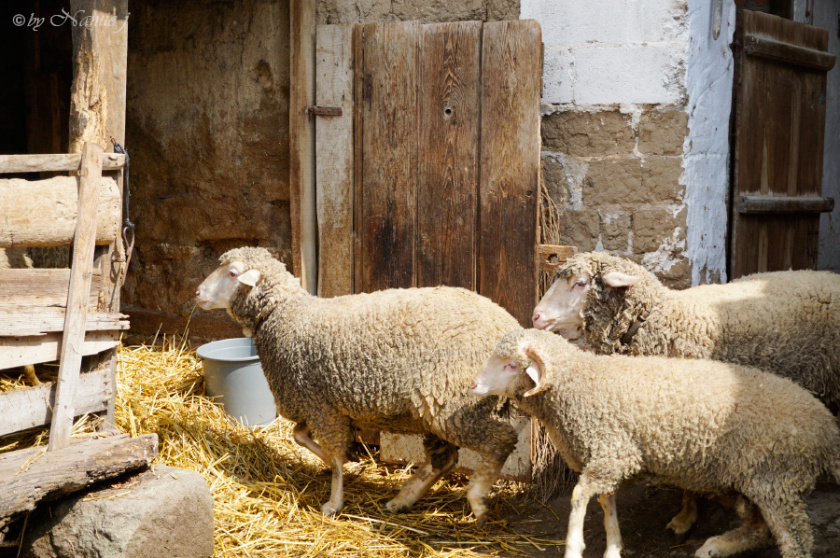 When heading home, we took a wrong road by mistake but ended up enjoying the spectacular landscape and nature.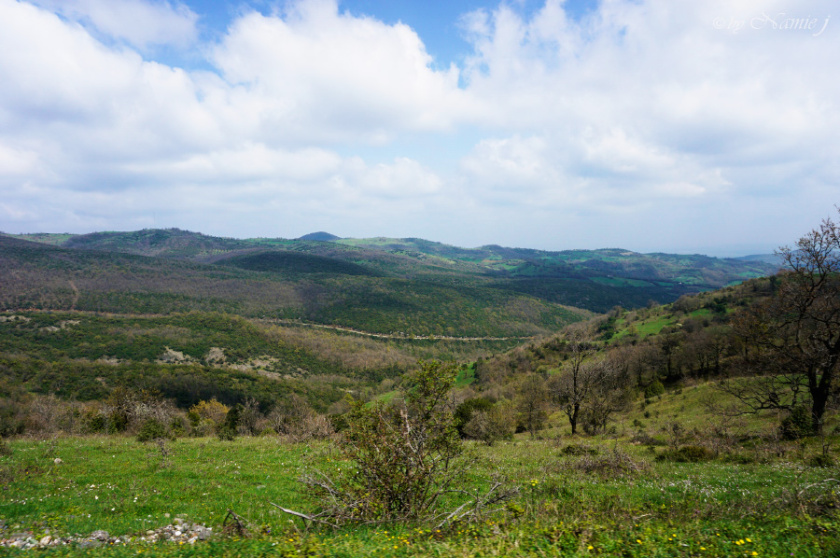 The cattle, sheep, and goats were grazing happily, looking curiously at us.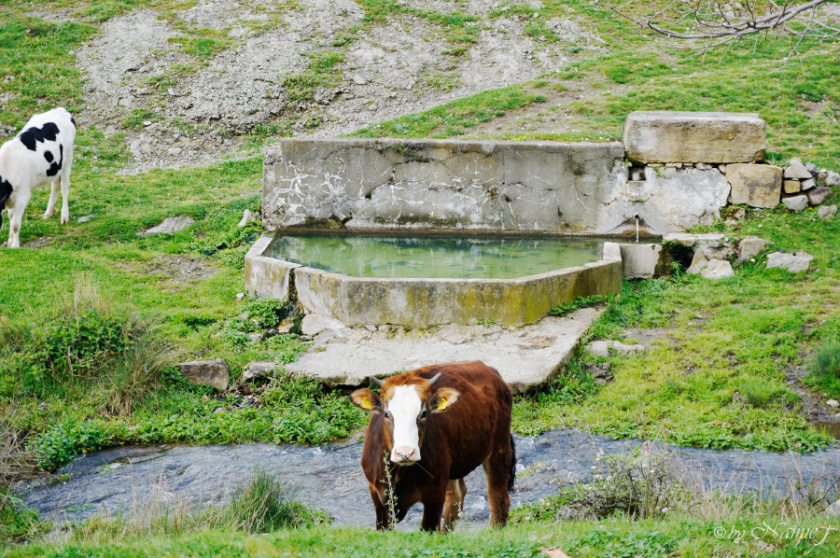 I'd wished I could have got out of the car and rolled around on the flower-laden pasture or had a romantic picnic with a nice bottle of bubbly.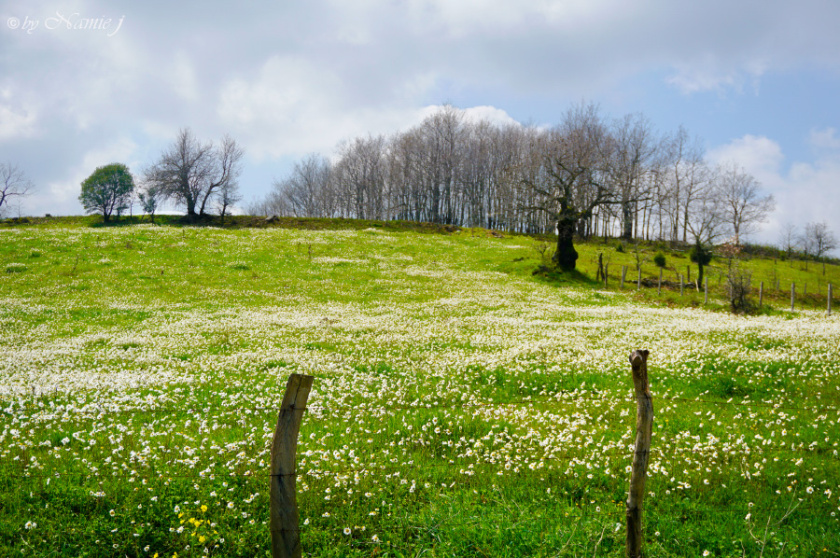 Perhaps another time but very soon… I really loved this secret scenic road, so green and peaceful.
I hope the weather is warm and flowers in full bloom around you right now. Why not plan a lovely picnic this weekend then!